Laheta™ Neuropathy Socks: Relieve Your Pain and Regain Comfortable Living
Laheta™ Neuropathy Socks: Relieve Your Pain and Regain Comfortable Living
The blood flow changes when wearing Neuropathy Socks
After Using Neuropathy Socks, the Sensation of Pain Decreases
A recent clinical study published in the "Neuropathic Pain Journal" revealed that patients using neuropathy socks showed a significant positive impact in alleviating neuropathic pain and improving sleep. Another study observed the blood flow changes when wearing Neuropathy Socks which pointed out that these socks contributes to blood flow.
These clinical research data provide robust support for the effectiveness of neuropathy sock products, offering a potential solution for those struggling with neuropathy symptoms. Look no further, because these socks are tailored just for you. Here's why you should choose Laheta™ Neuropathy Socks:
✅ Disease Prevention: Improved blood circulation acts as a shield against potential health issues.
✅ Effective Pain Relief: Experience rapid and long-lasting pain relief.
✅ Premium Quality: Crafted from top-tier materials for exceptional durability.
✅ User-Friendly: Easy and comfortable to wear daily without any hassle.
✅ Enhanced Blood Circulation: Revitalize your feet and accelerate the healing process. Let Stunor Dr. Neuropathy Socks be your trusted companion on your journey to a life free from pain, improved health, and unparalleled comfort!
Definition and Target Audience of Socks:
Neuropathy socks are specially designed socks intended to provide comfort, support, and relief from neuropathy symptoms. These socks are typically suitable for the following symptoms and individuals:
✨Diabetic Patients
✨Neuropathic Pain Patients
✨Circulatory Issues
✨Prolonged Standing or Sitting
✨Elderly Individuals
Features:
Compression: Neuropathy socks typically use mild compression to improve blood circulation. Compression socks can reduce swelling and enhance blood flow in the affected areas. This principle has the potential benefit of relieving neuropathic pain and fatigue.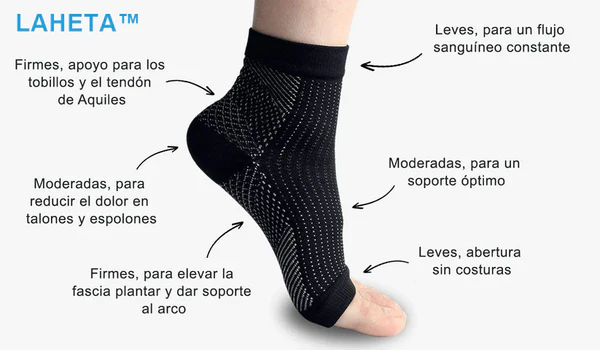 Seamless Design: Seamless socks reduce potential irritations on the feet, helping to alleviate neuropathy symptoms. Avoiding friction and abrasion can reduce discomfort, especially for patients sensitive to external stimuli.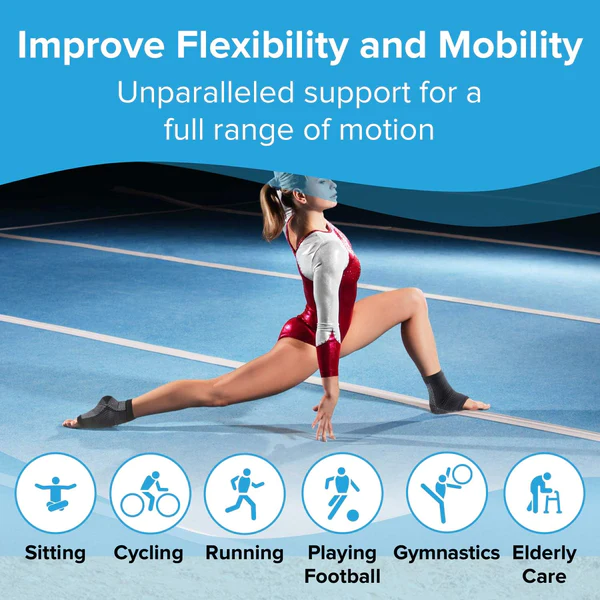 Soft Materials: Neuropathy socks are made of breathable and moisture-wicking nylon material, allowing for extended wear. This contributes to a comfortable wearing experience and reduces pain and discomfort.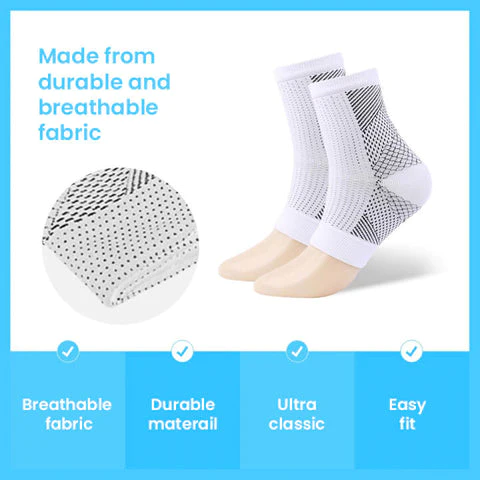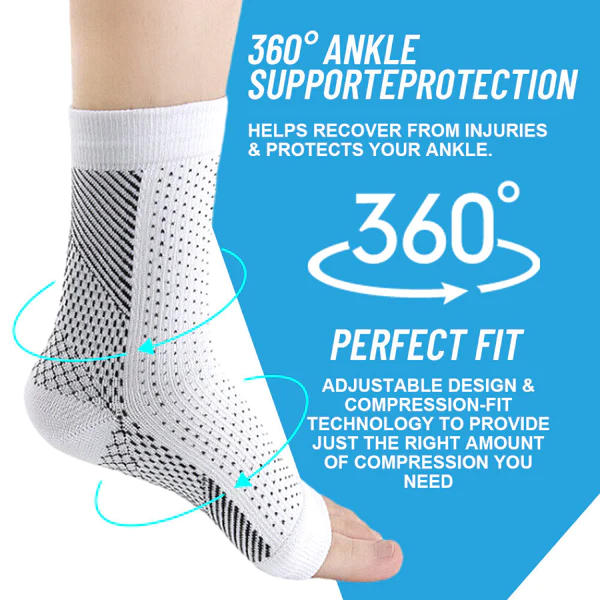 Support: The supportive features of socks help stabilize the feet, reducing wobbling and instability. This can lower the risk of falls, especially for older individuals and those whose neuropathy symptoms affect their balance.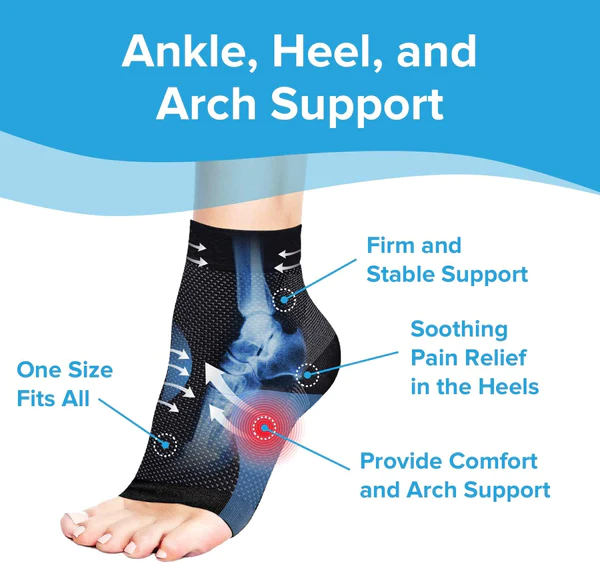 Scientific Principles of Laheta™ Neuropathy Socks
Principles of Electromagnetic Therapy: The electromagnetic therapy in neuropathy socks employs precise frequencies and intensities to provide gentle stimulation to nerve endings. This helps regulate nerve signal conduction and enhances the body's natural healing mechanisms.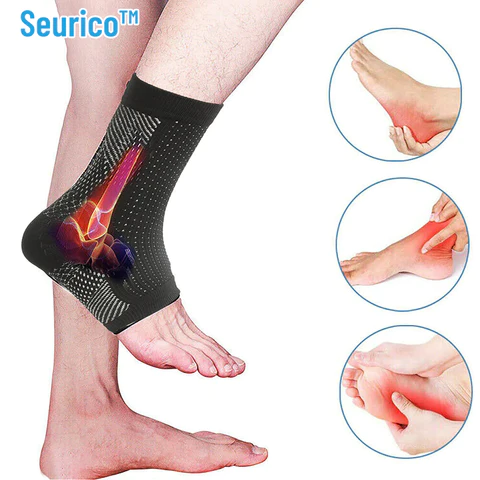 Pain Relief: Through electromagnetic therapy, neuropathy socks can offer unique relief for nerve-related symptoms. Not only do they alleviate pain, but they also help relax tense nerves, allowing you to regain your life beyond suffering.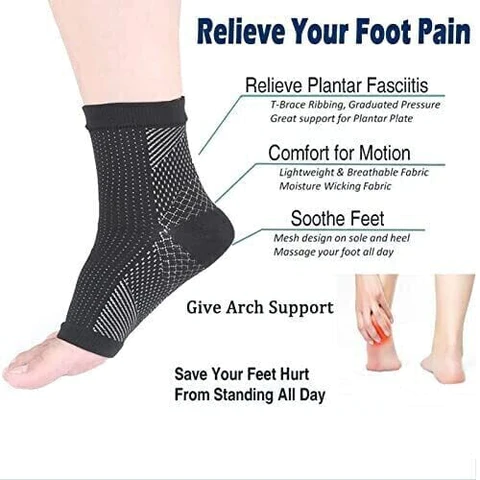 Improved Blood Circulation: The electromagnetic therapy in neuropathy socks also aids in enhancing blood circulation, promoting the delivery of oxygen and nutrients to various parts of the body, thereby expediting the healing process.
The consumers who have used our product have spoken up!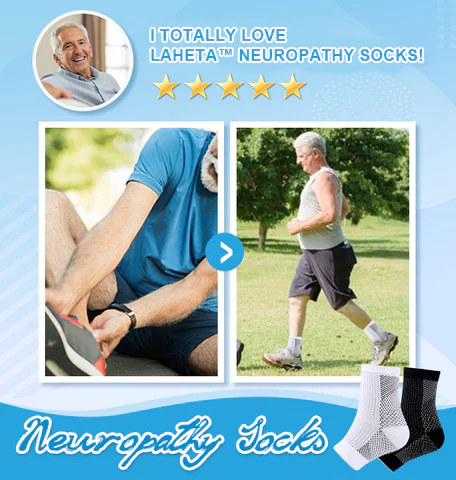 "Using Neuropathy Socks has been quite a remarkable journey! When I first put them on, I immediately felt a significant change. In just two days, my leg pain noticeably eased, as if they were wrapped in soft clouds. Every step felt like an ongoing foot massage. Walking became much easier, and the pain diminished, especially at night, improving the quality of my sleep.
As I continued using them for a week, Neuropathy Socks not only improved my physical condition but also enhanced my overall quality of life. Pain was no longer my primary concern, and I could participate more freely in daily activities, even rediscovering the joy of outdoor activities. "
🌟🌟🌟🌟🌟John Smith,62,New York City, USA

FAQ
Q1: Are these Neuropathy Socks suitable for all types of neuropathic symptoms?
✨ Socks are typically designed to alleviate neuropathic symptoms caused by diabetes, neuropathic pain, and improve blood circulation. However, different socks may be suitable for different types of symptoms.
Q2: Are these socks easy to clean and maintain?
✨ Neuropathy Socks are easy to clean and maintain and can typically be machine-washed like regular socks. It is recommended to follow the manufacturer's provided cleaning instructions to ensure the product's durability and performance.
Q3: Can these socks be worn for extended periods?
✨Yes, Neuropathy Socks are designed to provide extended comfort and support. They are made from soft materials and feature seamless designs to minimize irritation and discomfort.
Q4: Do I need a doctor's prescription to purchase Neuropathy Socks?
✨ Neuropathy Socks do not require a doctor's prescription and can be purchased online or from a pharmacy. However, if your symptoms are severe or you need professional medical advice, it's best to consult a doctor before purchasing for specific recommendations.
Package Includes: 1 x Laheta™ Neuropathy Socks: Relieve Your Pain and Regain Comfortable Living