Seurico™ Exquisite Fragrance Atomizer
Luxury in Every Drop: Refillable Travel Atomizer
Elevate Your Senses with Unmatched Elegance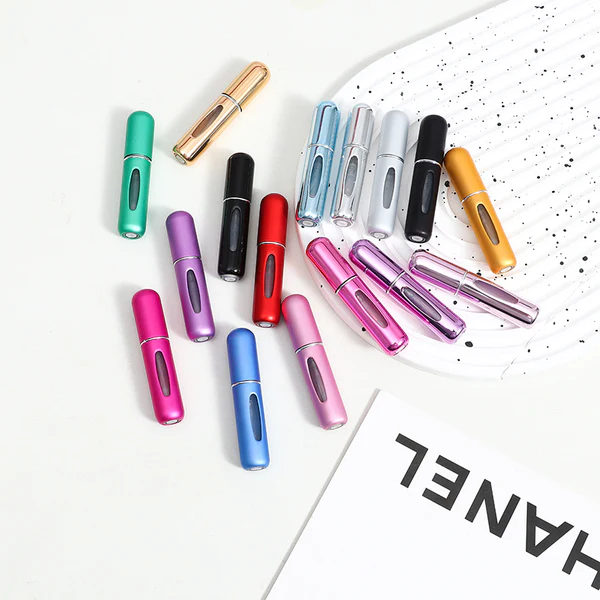 Experience the epitome of sophistication with our Refillable Travel Atomizer.
This portable fragrance companion isn't just an accessory; it's a statement piece that turns your daily routine into a luxurious ritual. Immerse yourself in a world of refined scents with the science-backed design of our atomizer.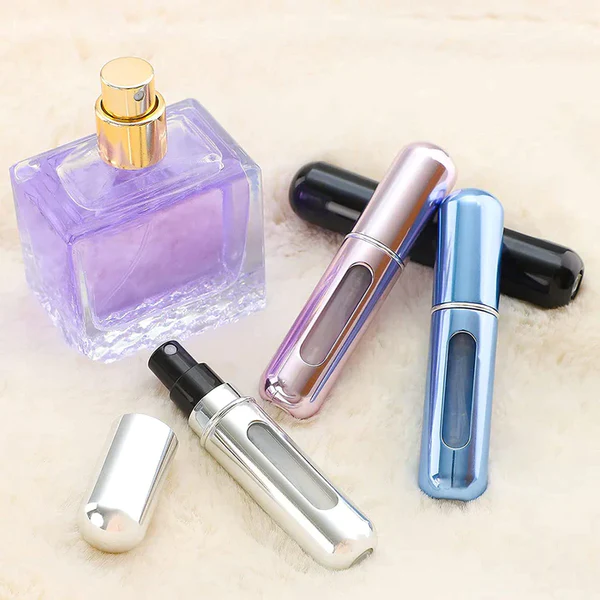 ADAPTABLE AND FASHIONABLE
SEAMLESS STYLE FOR ANY ENVIRONMEN
Our Refillable Travel Atomiser boasts a sleek cylindrical design that effortlessly slips into your pocket or purse. It's the perfect blend of practicality and style, making it a versatile addition to your on-the-go lifestyle. Whether you're heading to a meeting or a weekend getaway, it ensures you're always prepared to refresh your scent with ease. With its elegant presence, it becomes a part of your style statement.

PRECISION AND EFFICIENCY
MAXIMISING EACH SPRAY
Experience the art of precision in every spray with our atomizer. Its finely crafted mechanism disperses fragrances in a delicate mist, enveloping you in scent while providing a consistent and efficient application. Each press of the Atomiser transforms your fragrance into a sensorial experience. The precision in every spray allows you to make the most out of your favorite fragrances.
 QUALITY THAT LASTS
 ENDURING CRAFTSMANSHIP FOR TIMELESS USE
Meticulously crafted, our Refillable Travel Atomiser is a symbol of unwavering quality and durability. It's built to withstand the test of time, becoming an enduring part of your daily routine. With it, your favorite fragrances remain ever accessible, a reliable partner for years to come. This atomizer is a testament to the enduring value of carefully crafted products that stand the test of time.

 ELEGANCE REDEFINED
Beyond practicality, our Refillable Travel Atomiser stands as an emblem of timeless elegance. Its polished exterior and superior craftsmanship reflect an appreciation for life's finer pleasures. This atomizer harmoniously blends form and function, appealing to those with a refined taste and a desire for the finer things in life. Carry it with you, and you carry a touch of sophistication wherever you wander. It's not just an accessory; it's a statement of elegance that redefines your presence with every spray.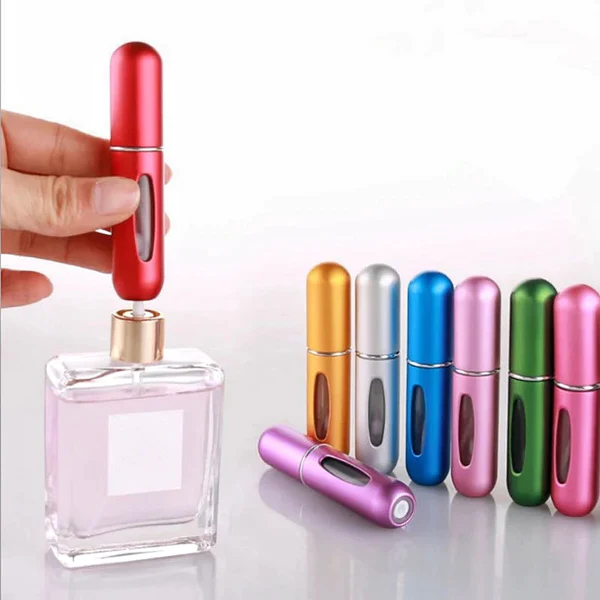 Customer Reviews: Discover the Luxury Experience
⭐⭐⭐⭐⭐"This perfume atomizer truly revolutionized my fragrance game! Each spray is a unique experience, allowing me to exude charm anytime, anywhere. A must-have for true perfume enthusiasts." – Isabella, United Kingdom
⭐⭐⭐⭐⭐"The design is incredibly chic, seamlessly fitting into my daily life. It's not just a perfume bottle; it's a symbol of my taste in fashion. I love the unique and stylish portability!" – William, United Kingdom
⭐⭐⭐⭐⭐"In my travels, this perfume atomizer is a game-changer. Compact and lightweight, it effortlessly revitalizes my fragrance wherever and whenever. My adventurous journeys are inseparable from it now!" – Emma, USA
⭐⭐⭐⭐⭐"Gave it to my wife, and she absolutely loves it. The perfect combination of practicality and elegance. It's now an integral part of her daily life." – Liam, Australia
⭐⭐⭐⭐⭐"The polished exterior and enduring quality of this perfume atomizer truly evoke a sense of nobility and elegance. It's the perfect complement to my style, and every use elevates my taste." – James, United Kingdom
Product Specifications
Weight: A mere 16g.
Size: A compact 5ml, perfect for travel.
Sustainable Choice: Embrace eco-conscious travel and reduce waste.
Package Includes: 1 x Seurico™ Exquisite Fragrance Atomizer