Cithway™ Magic Snake Silicone Cake Shapers
FEATURES:
Magic DIY Cake Shaping
A clever baking mold set designed with excellent flexibility that can be freely bent to your will and easily connected to each other. Allowing you to neatly and effectively form different unique shapes that comes to mind to mold your baked goodies. Making your regular cakes and sweets extra whimsy and delectably looking which is sure to attract and be loved by everyone. Suitable for creating a variety of shapes, including small circle, big circle, heart, flower, square, and more possibilities.
Ergonomic Design
These interlocking cake molds are light and they promote remarkable non-sticking qualities. It enables you to smoothly unmold your sweets on tip top shape with great ease and speed without leaving any residues on the mold. The cake shapers also lock together securely to ensure that not a single drop of batter would come out and to prevent the shape from getting ruined. Additionally, each mold comes with 18.5 cm width and a height of 5.5cm which are high enough to let you pour in more mixture to be mold! No worries as the cake shapers have extreme temperature resistance that can hold out against the heat or cold of ovens, microwave oven, and fridge.
Easy to Use
The multi-style puzzle molds can be assembled into shape just by connecting the ends of each mold strip. Simply interlock the strips together, create your desired shape, then place the formed mold on top of a baking sheet and tray. After that, pour the batter or mixture inside the mold, prep until baked, unmold, and you can now decorate your baked sweet goods! No more multiple unnecessary tools and complicated methods needed anymore. The perfect helper for beginners, DIYers, mothers, baking enthusiasts, patisserie, professionals, bakeries, cafes, and such.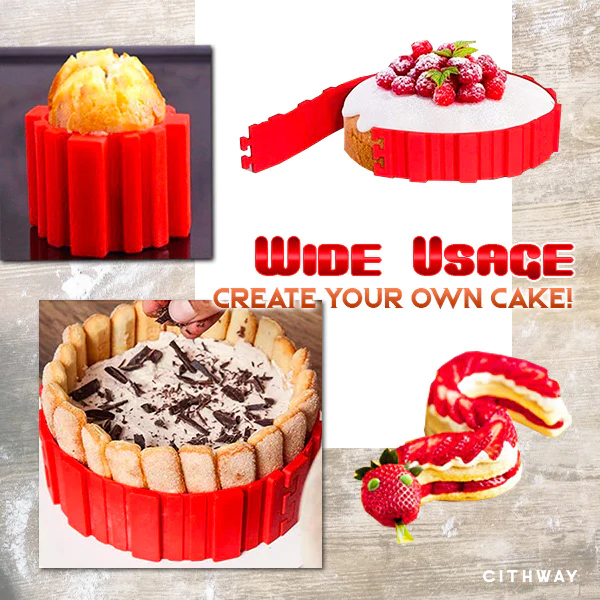 Wide Application
These cake shaper molds boast great versatility that can be safely used for shaping up a variety of sweets. Suitable for mousse cakes, chiffon cakes, birthday cakes, pizzas, breads, cupcakes, jelly, puddings, pies, tarts, and so much more. You can use it for special occasions like birthdays, parties, anniversaries, holidays, christmas, themed parties, and such.
Premium Material
Made of high-quality, food-grade silicone material that promotes an amazing molding performance and long-lasting durability. The mold strips do not contain any toxic chemicals that might leach which permits them to come safely into direct contact with any food products. Furthermore, the multi-style cake shaper molds can withstand multiple years of everyday usage without deforming, melting, cracking, and other damages. They can be easily cleaned by hand washing or dishwashing after each use to keep off harmful build ups.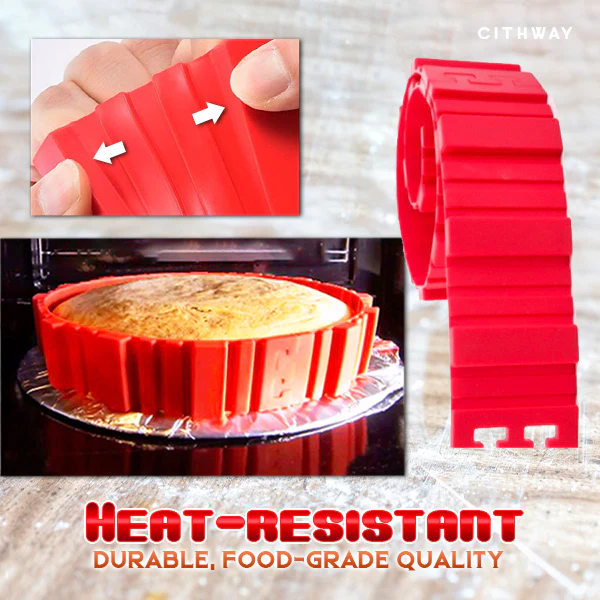 SPECIFICATIONS:
Temperature range: -40 to 230°C
PACKAGE INCLUDES: 4Pcs x Cithway™ Magic Snake Silicone Cake Shapers (4Pcs)