Efficient garden tool
These products are distributor surplus in our warehouse and have now reached the contract period without being processed on time. Our warehouse has the right to sell these stocks at a low price to reduce our losses.
" alt="" aria-hidden="true" />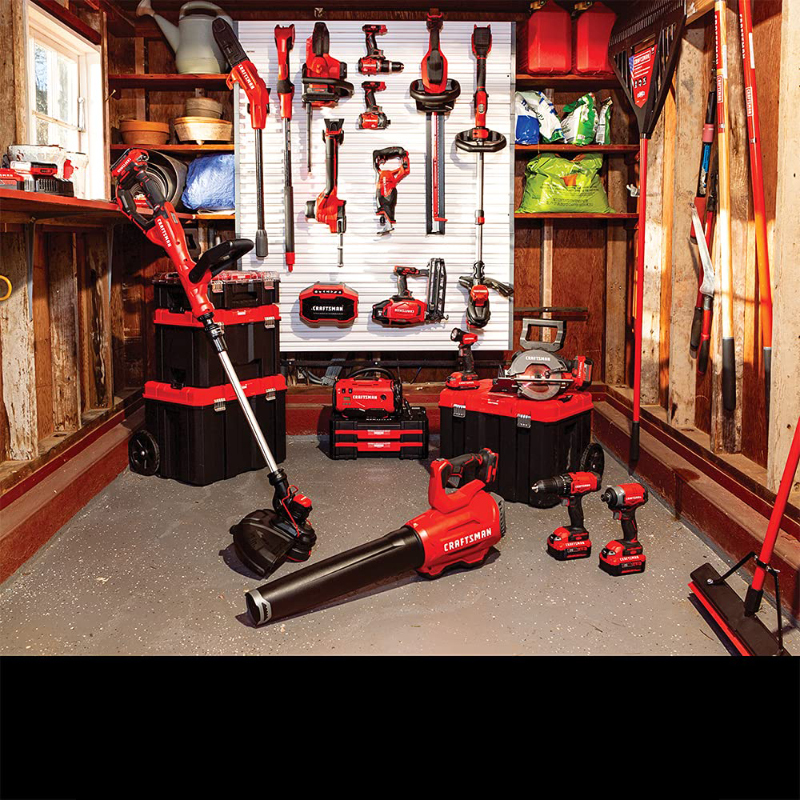 【2 in 1 Pole Saw】Different from traditional pole saws, the 2 in 1 pole saw is a combination of a pole saw and a mini chainsaw. We add an automatic telescopic pole to the 6-inch mini chainsaw, which you can install and use according to the current situation. Not only can you use the mini chainsaw alone to prune low branches, but you can also install the telescopic pole to meet the needs of tall tree work.
" alt="" aria-hidden="true" />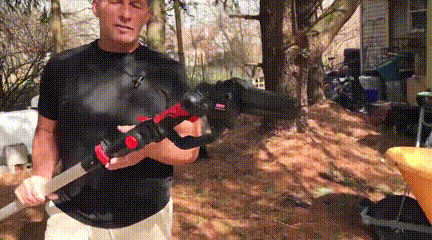 This tool makes it easy to cut, prune and trim large trees and shrubs. Whether you're a professional arborist or a homeowner looking to maintain your yard, this tool is an efficient solution for all your pruning needs.
" alt="" aria-hidden="true" />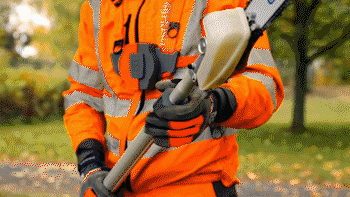 【Adjustable Extendable Pole】The length of the extendable pole can be adjusted from 201.2 cm to 292.6 cm or from 259.1 cm to 457.2 cm. When you need to prune very tall branches and don't want to use a ladder for safety reasons, you will find this brushless pole saw very attractive. In pursuit of smart and efficient times, we hope this upgraded pole saw will bring you maximum convenience.
" alt="" aria-hidden="true" />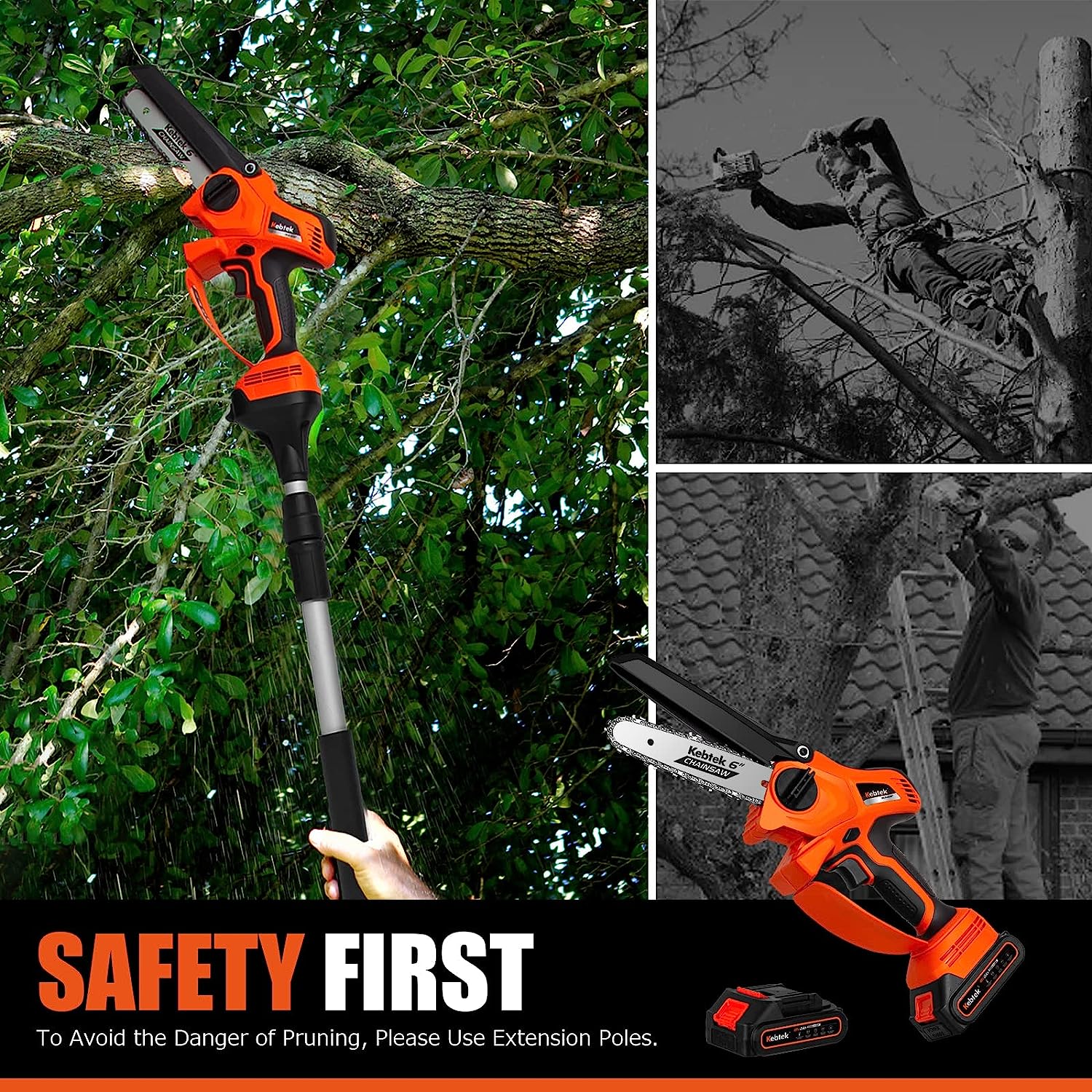 【Triple Safety Device】Press and hold the power button on the battery tab for more than 3 seconds, the battery tab turns green. Then press the safety switch and pull the trigger to work. If the safety switch is not pressed, the chain will not work. The guide bar also includes a protective cover to prevent accidents. Additionally, the chainsaw is equipped with a safety lock.
" alt="" aria-hidden="true" />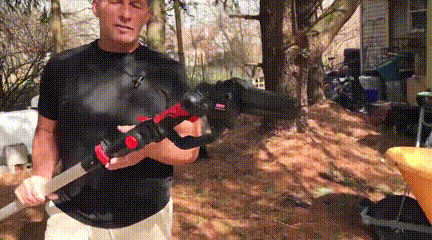 The pole saw features a telescopic pole that can be easily extended or retracted to reach different heights. It is equipped with a sharp saw blade on the end, allowing you to cut branches with precision and ease.
" alt="" aria-hidden="true" />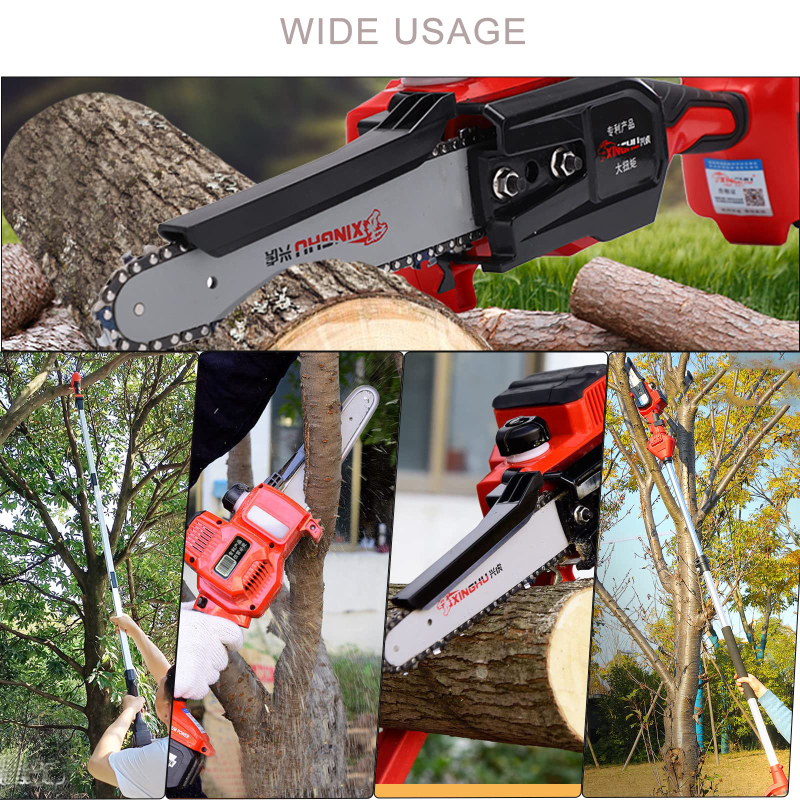 The design is retractable, foldable and detachable, and the length can be adjusted freely by pulling the handle buckle. And the portable mini chainsaw has a non-slip handle and safety lock, prevent sudden start and handle slippage, protect your safety, even beginners can operate and control with ease.
" alt="" aria-hidden="true" />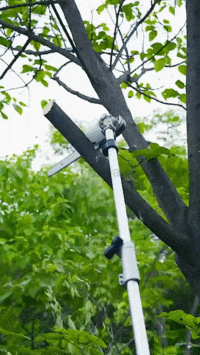 " alt="" aria-hidden="true" />

Features a 1/4 saw chain for high cutting performance and powerful cuts. Its non-slip operating handle is also comfortable. Replacing the chain is a tool-free job with a flexible protective cover for safe work. Know when it's time to charge with the handy charge indicator.
| | |
| --- | --- |
| " alt="" aria-hidden="true" /> | " alt="" aria-hidden="true" /> |
High Capacity Rechargeable Battery: The mini cordless chainsaws are equipped with batteries, can provide much longer running time and more power, continuous use time about 90-150 minutes, charging time only takes 25 minutes. Electric chainsaws are more suitable for outdoor use, get more efficiency in your work, portable and low energy consumption.
" alt="" aria-hidden="true" />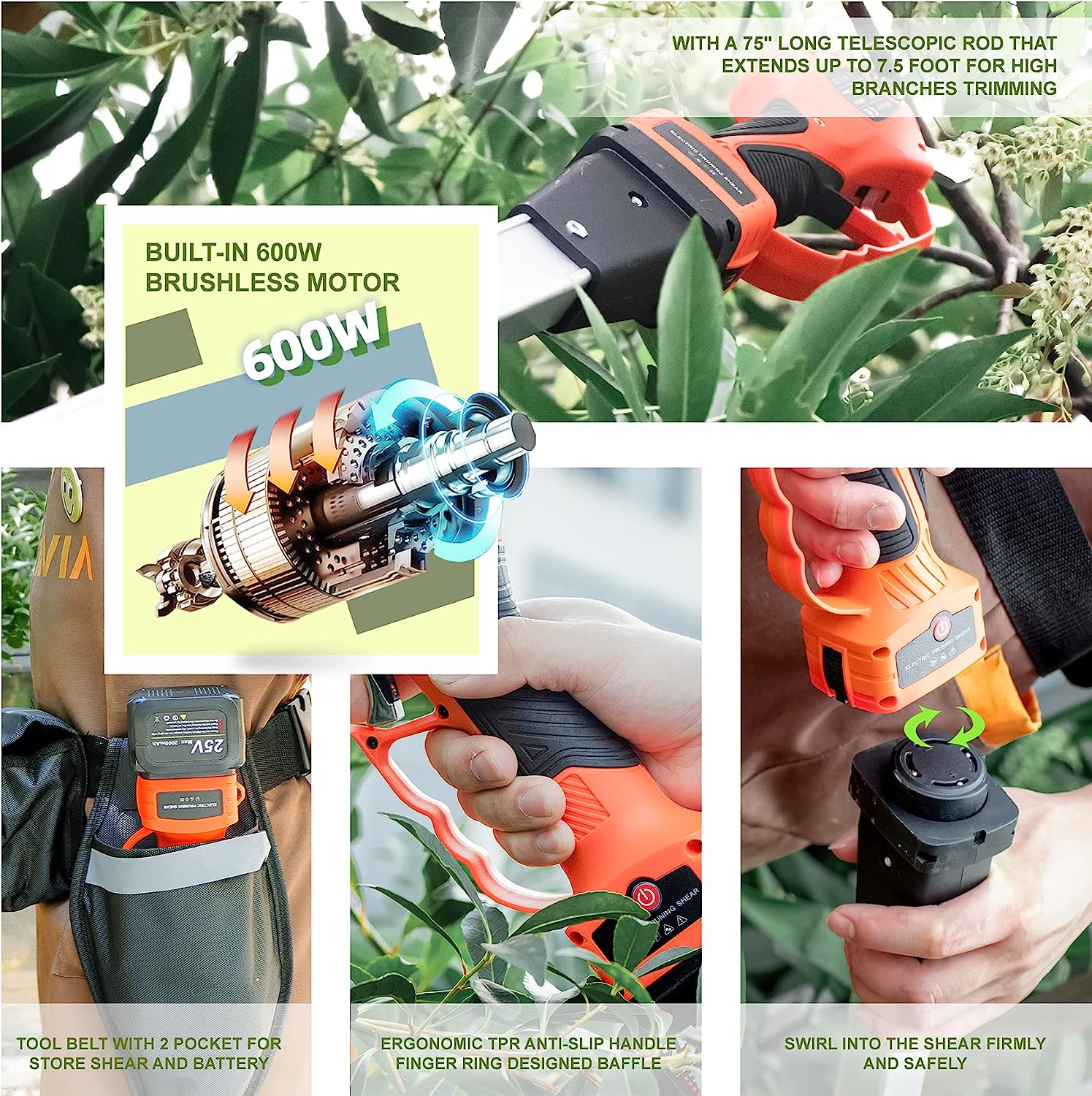 It is made of high-quality chain made in Germany, adopting high-quality chains that have gone through a deep tempering process: cuts branches up to 20cm thick (4500 rpm).
| | |
| --- | --- |
| " alt="" aria-hidden="true" /> | " alt="" aria-hidden="true" /> |
Multi-position head cuts: 90° rotation, more convenient! Transform your patio or garden effortlessly.
| | |
| --- | --- |
| " alt="" aria-hidden="true" /> | " alt="" aria-hidden="true" /> |
Multipurpose. It can be disassembled into a small handheld chainsaw for cutting wood and pruning trees!
" alt="" aria-hidden="true" />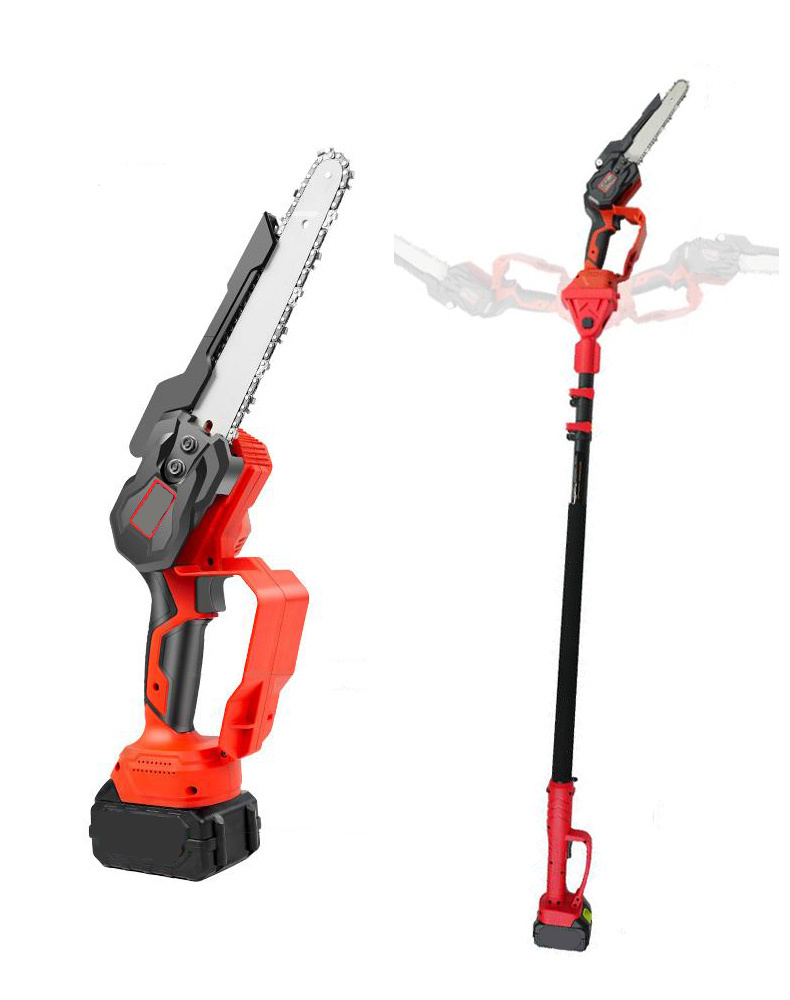 "Switch lock to prevent accidental activation and protect your family."
A charger
6 inch (15.24 cm) mini chainsaw
Telescopic carbon fiber pole
2 * 21V 3000 mAh rechargeable battery packs
Weight: 3.20kg
Pole length: 202 cm ~ 293 cm / 260 cm ~ 458 cm
Excellent after-sales service: Easily install or replace the chain without tools. Equipment maintenance only needs to be cleaned with oil instead of washing. If you have any questions about the product, please feel free to contact us by email. We will provide 24 hours online service. Our goals are to provide the best service to our clients and protect the interest of our clients.