Fivfivgo™ Korean Snail Collagen Lifting & Firming Cream
What causes facial changes?
As you get older, your skin naturally becomes less elastic and more fragile. Skin repairs at a much slower rate than when you are young. This causes loose, saggy skin and more-pronounced lines and creases.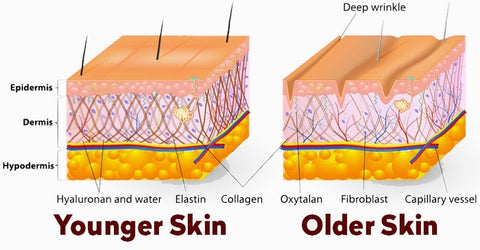 Wrinkles are the result of a loss of skin elasticity and collagen. As skin loses elasticity and collagen in the dermis, or middle layer of the skin, fat in the subcutaneous or deepest layer of the skin decreases over time.
Features of Snail Secretion Filtrate:
It has 15 times the amount of essence and collagen as other products of the same type.
Suitable for all skin types, it is odorless, non-sensitive, and non-irritating.
Pure natural collagen, the most easily absorbed and effective collagen by the human body.
Skin spots and scars are perfectly removed and repaired.
The anti-wrinkle effect is 50 times stronger than other anti-wrinkle products, and it lasts forever.
Key Ingredients Stimulate Skin Collagen Regeneration
All ingredients are extracted from natural plants and are cruelty-free.
Snail Secretion Filtrate (SSF) at 5,000ppm captured in a Hydrogel coated Premium Sheet made in Korea. The snail secretion filtrate is naturally rich in collagen, elastin, allantoin, and glucuronic acid. It can replenish collagen for the skin, promote cell metabolism and regeneration, repair skin tissue, eliminate wrinkles and scars, remove dark spots on the skin, and resist the damage of free radicals to the skin.
Matrixyl 3000+ Complex penetrates deep into damaged skin and stimulates the production of new collagen – a protein which makes skin appear plump and firm. It's all the rage in the beauty industry, thanks in part to a 2009 study that found that applying non-prescription Matrixyl 3000+ Complex to your skin reduced fine lines and wrinkles by 75%. Dr. Torres said this is why this serum is so effective. It's one of the few products on the market that has Matrixyl 3000+ Complex in the right consistency and proportion.
Argireline: When combined properly with Matrixyl 3000+ Complex, it literally makes your face look two decades younger in weeks! Argireline works by binding to moisture. It can hold up to 1,000 times its weight in water, making it an excellent natural skin plumper. Argireline helps your skin repair and regenerate itself after suffering from dryness, environmental stresses, or irritation. It is one of, if not the only one, of these products that you can buy over the counter with an effective concentration of argireline.

Peptides are protein molecules that are small enough to penetrate the skin's outer layer. So instead of sitting on top of the skin, they sink in more deeply. Adding it to the essence can maximize the effect.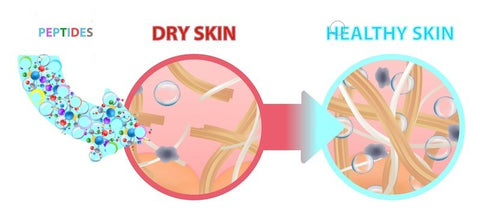 According to the Szeged Bioresearch Center (BRC), peptides can promote collagen, elastic fiber, and hyaluronic acid regeneration, improve skin water content, increase skin thickness, and reduce fine lines. You can think of them as messengers for the other cells. They send signals telling the cells to produce collagen and elastin.
"This is the best anti-aging and anti-wrinkle cream!" said Dr. Bryant, a dermatological specialist who has been engaged in the treatment of skin problems for 20+ years. "It was one of the few products on the market with the right consistency and percentage of Snail Collagen, Matrixyl 3000+ Complex, Argireline, and Peptides."I use this cream every day because I can see it helps me fight skin aging very well."
"For me, beauty salons are expensive, and lifting surgery is risky. According to reports, thousands of people suffer from facial surgery infections or surgical failure every year. Fivfivgo™ Korean Snail Collagen Lifting & Firming Cream provides a more natural, harmless, and risk-free way of anti-aging. It not only saves me a lot of money but also actually naturally accelerates cell renewal, stimulates collagen regeneration, increases skin thickness, and at the same time forms a protective layer, reduces the loss of collagen, and restores the skin's plumpness and elasticity." — Dr. Helen Bryant
Originally only Available in Clinics 
Several ladies have already used this and have seen positive improvements. This alternative can save you over $3000 per year compared to expensive spa visits.
Avoid expensive sessions.
Avoid time-consuming appointments.
Use in the convenience of your own home.
Powerful strength.
Use when traveling!
This is why Fivfivgo™ Korean Snail Collagen Lifting & Firming Cream is special
Prevents the skin from sagging.
Helps reduce the dryness of the skin caused by the water shortage.
Further moisturizes and brightens skin.
Clears the skin and activates the permeable light muscle.
Tightens and makes the skin more elastic.
Prevents dynamic wrinkles and fine lines that have not yet formed.
Suitable for people of different ages.
Suitable for every skin type: dry skin, oily skin, combination skin, sensitive skin, and mature skin.
It is suitable for use both during the day and at night.
Safe to use.
Wash-free cream can be fully absorbed by the skin.
Visible results after just one application.
Features:
All-natural, high-quality ingredients with no side effects. Due to its calming properties, our cream can also be used on sensitive skin types.
We say no to testing on animals. All of our beauty products are paraben-free, phthalate-free, fragrance-free, and cruelty-free.
Ingredients: Snail Secretion Filtrate, Peptides, Matrixyl 3000+ Complex, Argireline, Cytokine, Fibroblasts, Hyaluronic Acid, Vitamin C.
Package Includes: 1 x Fivfivgo™ Korean Snail Collagen Lifting & Firming Cream
How to Use:
Apply a small amount of cream to the face and neck.
Pat cream into the skin using your fingertips to aid absorption.
Specifications:
Net volume: 30 g (1.06 oz)
Package: 1 jar