Folding Rod
Folding Rod
🎣 All-in-One Convenience: No need to purchase a reel, line, float, and hook separately. Our Folding Fishing Rod comes with a built-in reel and all the extras you need. Just unfold, cast, and you're ready to fish!
🏞️ Portable & Compact: Designed with convenience in mind, this rod folds down into a manageable size, making it super easy to carry. Whether you're hiking to a remote lake or simply storing it in your car, you'll find it incredibly portable.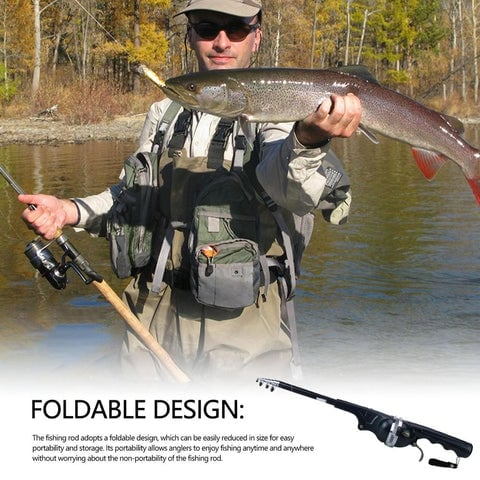 🐟 Versatile Use: Whether you're a beginner looking to get your hook wet or a seasoned angler wanting a handy backup rod, this is perfect for freshwater and saltwater fishing.
Key Points:
All-in-One Solution: This 2-in-1 fishing tackle combines a fishing rod and reel, offering customers a hassle-free experience.
Telescopic & Foldable: The fishing rod folds down to a mere 26cm (10in), making it highly portable and perfect for on-the-go fishing adventures.
Pre-loaded Line: Comes equipped with fishing line, allowing immediate use and making it easy for customers to change lines themselves.
Smooth Gear Ratio: The reel boasts a gear ratio of 3.6:1, ensuring smooth retrieval and casting.
Comfort and Durability: The rod section is crafted from high-quality fiberglass, with a strong plastic reel housing. Plus, the ergonomic handle ensures a firm, comfortable grip.
Extra Features: A convenient lanyard is included for easy carrying, adding value for your customers.
💪 Durable Design: Crafted from high-quality materials, the Folding Fishing Rod is built to last. The reel is smooth, and the rod has enough backbone to handle your catch, big or small.
🎁 Gift Ready: Comes in a stylish package, making it a perfect gift for fishing enthusiasts.
The ultimate convenience of folding fishing rods opens your next fishing adventure. Come on, put this deal away before it disappears!
---
Limited Quantity, it will sell out fast. Remember to buy some for your family or your friends. It's a unique gift.