Halloween 2023 Garage Door Decoration
Halloween 2023 Garage Door Decoration
Ready to Decorate Your Garage Door For Halloween?
If spending hours searching for dressing up your garage… boy we have good news for you!
It's easy as 1-2-3!
1.Unbox your package
2.Installation is quick and easy
3.Enjoy your happy time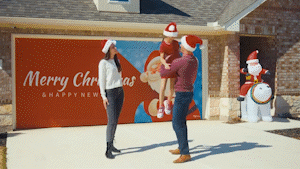 🎅Don't be fooled by the companies that are trying to copy their garage door decors. Their quality of artwork, materials, print, and ease of installation cannot be matched. Purchase the one and only Door Ornaments Garage Mural decor.
FEATURE
Does not interfere with garage door functionality
Fun colorful designs. Be the talk of the town. High-quality durable materials for many years of enjoyment.
Garage Door Decor is manufactured to fit roll-up (sectional) garage doors, as well as canopy (flat) garage doors. Please measure your door to know what size door to order. You can find multiple sizes available on the site.
We've developed a system that makes installation quick and easy. This system requires no tape or screws, which could potentially damage your garage door The components allow for the door to go up and down without hurting the integrity of the door. Our hardware consists of a hook attachment that goes over the top of the garage door and a tension hook at the bottom, which flexes as the door moves. The top hook attachment protects your mural from theft by keeping it securely held behind the frame of the garage door. The tension hook keeps the mural taut when the garage door is closed and protects it from wind damage by flexing with the mural.
This product can be reused and stored for multiple seasons
Quick and easy assembly
SPECIFICATIONS
Outdoor Use: Yes
Material: Polyester
Power Source: No Power Source
Size :

Overall:6.89 ft. x 7.87 ft

Overall:6.89 ft. x 15.75 ft

Weight:0.6 lbs/ 1.7lbs
PACKAGE INCLUDES
1 ×  Halloween Garage Door Mural Ornament
1 × Installation kit