Interactive Pet Snack Launcher
Welcome To The New Age Of Pet Playtime!
Introducing the Interactive Pet Snack Launcher. This revolutionary toy is perfect for cats and dogs alike.
The handle is designed for a comfortable grip, allowing you to keep on playing for hours.
Simply load up your pet's favorite treats and a fun game of fetch starts.
With this interactive toy, your furry friend not only gets tons of entertainment and exercise – they can also enjoy the challenge of using their intelligence too.
Made from non-toxic materials, it is safe and durable for all kinds of pets.
And with its spring-loaded trigger feature, you can easily launch treats far away to keep them guessing!
Not only do pets get rewarded with yummy food, but they also get to practice their hunting skills as well. So why wait? Get the Interactive Pet Snack Launcher today for unlimited playtime action with your beloved animal companion!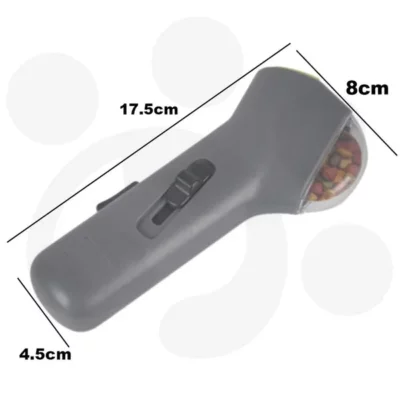 Package Includes: 1 x Interactive Pet Snack Launcher