MEDix™ Contact-Free Pain Relief
Experience relief with MEDix™ Contact-Free Pain Relief. Its fast-acting liquid soothes neck, shoulder pain, and inflammation linked to cervical discomfort, joint aches, restoring a pain-free life.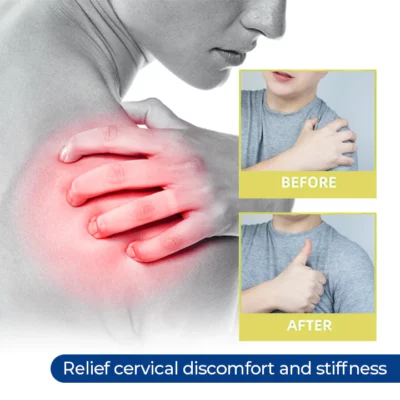 What causes cervical vertebra discomfort and Rheumatism joint pain?
If you're feeling pain, stiffness, and limited range of motion around the neck, chances are you're experiencing cervical vertebra discomfort. This discomfort in cervical vertebra is commonly caused by muscle tension, poor posture, herniated discs, osteoarthritis, or injury to the neck area.
On the other hand, rheumatism joint pain, which usually affects joints in the hands, wrists, and knees, occurs when autoimmune inflammation attacks the lining of the joint and causes swelling and damage to the joint tissue. This leads to chronic pain, unsteadiness, and in severe cases, deformity.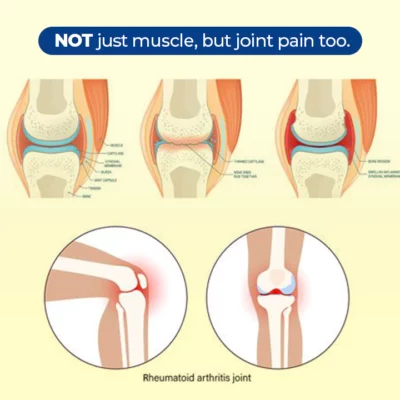 While the causes behind cervical vertebra issues and rheumatism are different, both can negatively impact a person's quality of life and should require proper medical evaluation and treatment and pain management.
How MEDix™ Contact-Free Pain Relief Works
The MEDix™ Contact-Free Pain Relief harnesses the natural healing power of nature to deliver anti-inflammatory and analgesic effects. These effects reduce swelling in the affected areas, alleviating pain and inflammation caused by cervical vertebra discomfort and Rheumatism.
Our product targets the root cause by promoting blood circulation to the regions where you're experiencing pain and inflammation. This increased blood flow ensures that vital nutrients reach the damaged tissues, aiding in the healing process and relieving stiffness, immobility, and discomfort.
Dr. Paul Soberano, recommends the MEDix™ Contact-Free Pain Relief.
The MEDix™ Contact-Free Pain Relief is one of the topical solutions for pain that I typically recommend to my patients who don't want to take oral meds. This liquid pain relief treatment is safe to use, has no side effects, and provides fast and effective relief to affected areas.
Why MEDix™ Contact-Free Pain Relief
The MEDix™ Contact-Free Pain Relief offers a swift, gentle, and efficient solution for individuals seeking relief from nagging shoulder pain, cervical stiffness, and bothersome back discomfort. Its efficacy lies in its ability to restore mobility and bring back the days free from pain-related concerns.
Designed ingeniously, our product features a curved bottle design, a practical innovation that facilitates contact-free application. This design permits effortless use in various scenarios and on distinct painful areas. Whether it's your shoulder, neck, or back, you can count on the MEDix™ Contact-Free Pain Relief for prompt and hassle-free pain management.
Our formulation incorporates a blend of natural and active ingredients, carefully chosen to ensure a deep-penetrating liquid form. This distinctive composition enhances the relief experience, delivering soothing effects to areas in need. We understand that the source of discomfort might vary, so whether you're grappling with back or neck pain, shoulder stiffness, or joint aches, our pain relief solution has got you covered.
The MEDix™ Contact-Free Pain Relief goes beyond just being an ordinary pain relief product. Its liquid formula is specifically engineered to absorb rapidly into the skin, allowing the active ingredients to directly target the root of your discomfort. This targeted approach ensures that relief is efficiently delivered to the precise areas that require attention.
Say goodbye to the inconvenience of dealing with persistent pain. Embrace the MEDix™ Contact-Free Pain Relief as your partner in regaining comfort and mobility!
The Key Ingredients of MEDix™ Contact-Free Pain Relief
Peppermint extract contains menthol, which has a cooling and slightly numbing effect when applied topically. This makes peppermint great for soothing the skin, reducing the perception of pain and discomfort, and alleviating muscle aches and joint pain.
Arnica contains certain chemicals callled "sesquiterpene lactones", which can help relieve aches and pain caused by osteoarthritis. It also has anti-inflammatory properties that can help reduce swelling and inflammation associated with Rheumatism joint pain.
Camphor has both analgesic (pain-relieving) and anti-inflammatory properties. It can also stimulate blood circulation. When applied to the skin, it can provide relief from chronic muscle and joint pain and reduce inflammation.
Methyl salicylate contains both analgesic and anti-inflammatory properties that aid in soothing minor muscle and joint pain. This ingredient alleviates pain by reducing inflammation and by blocking pain signals in the affected area. It is particularly useful for targeting pain associated with cervical vertebra discomfort and joint pain caused by Rheumatism.
Signature Product Benefits:
Relieves shoulder pain, cervical stiffness, back discomfort, and joint aches and inflammation
Comes in a deep penetration liquid form that absorbs fast, allowing the ingredients to work efficiently
Features Curved bottle design that makes it easy to use and spread all over the affected area without using your fingers
Infused with a blend of natural and non-irritating ingredients