The Secret Weapon™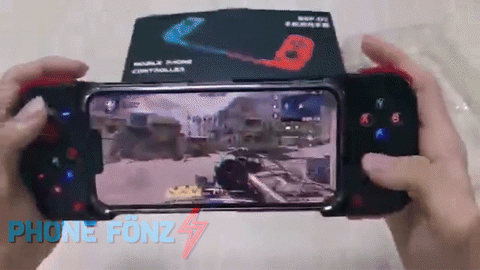 WHY YOU WILL LOVE THE SECRET WEAPON™
Multi-Platform Compatibility
Enjoy seamless gaming on Android, iOS, iPhone, PS4, Switch, Steam, and PC
Customizable Settings
Tailor settings with the Android Custom Settings Button for optimized gameplay
Effortless Macro Operations
Execute complex moves with one-click macros for a competitive edge
Ergonomic, Curved Design
Comfortable grip for longer gaming sessions
Innovative Two-Stage Stretch Structure
Fits phones from 5.31in to 6.81in (135mm to 173mm), offering stability
HOW TO USE THE SECRET WEAPON™
Using the Secret Weapon™ Gaming Controller is simple
Bluetooth connect for Android, iOS, or PC. Tailor controls, execute combos, and relish comfort. Adapts to various phone sizes, offers joystick control, extended battery life, backlit keys, and protective groove. Elevate gaming with ease and comfort.
WHY IS THIS OUR BEST SELLING PHONE BLUETOOTH GAME CONTROLLER?
Explore our top-selling Bluetooth game controller, The Secret Weapon™. Elevate your gaming with this ultimate choice.
WE'RE BACKED BY PROFESSIONALS
Gamers Crafting for Gamers
Our products are born from immersive gaming experiences. Crafted by dedicated gamers, we understand the essence of impactful moves.

DON'T MISS OUT!
There are over 100,000 Gamers using The Secret Weapon™. Due to this high demand, we often sell out so please be patient with us as we try our best to keep up with demand. For any other questions or inquiries please contact [email protected].
TRY IT 100% RISK FREE
We want you to be totally psyched about the products you purchase from Phone Fönz. If at any time within 30 days of receiving your order, you are not 100% satisfied, you may return it for a full refund, no questions asked.