Warebrill™ Organics Retinol Cream
Dr. Diane is a board-certified dermatologist and dermatological specialist who has 30+ years of experience in the beauty industry. She is notable for her professionalism in skin health as well as her approach to creating and maintaining the most natural-looking skin utilizing state-of-the-art cosmetic treatments and dermatologic technology.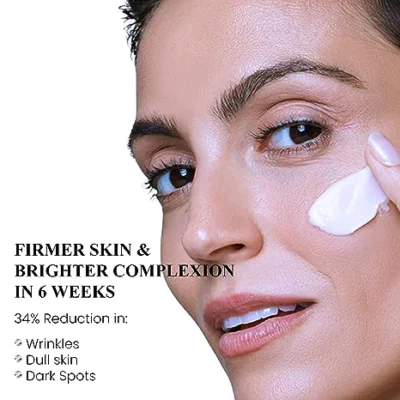 Warebrill™ is Considered to be the most effective anti-aging product in 2023 and it's highly recommended by Dr. Diane.
Without undergoing surgery. Combatting fine lines, wrinkles, and hyperpigmentation doesn't have to be expensive and invasive. The Retinol Cream contains concentrated active ingredients that improve any tell-tale signs of aging, leaving your skin firmer, plumper, and younger-looking.
How Retinol Works
Retinol is a form of vitamin A, also known as retinol. It plays an important role in skin care. Retinol is a powerful anti-aging ingredient that:
✅Skin Cell Renewal: Retinol promotes skin cell renewal and regeneration, helping to remove aging skin cells for smoother and younger looking skin.
✅Reduces Wrinkles & Fine Lines: Retinol stimulates collagen production, which reduces the appearance of wrinkles and fine lines, leaving skin firmer and more elastic.
✅Evens Skin Tone: Retinol helps reduce hyperpigmentation, evens skin tone, and reduces the appearance of dark spots and freckles.
✅Improves Acne: Retinol can also help clear oil and impurities from within pores, reducing the appearance of acne breakouts and reducing the appearance of breakout marks.
✅Promote the renewal of the stratum corneum: retinol can accelerate the renewal of the stratum corneum, making the skin smoother and more delicate.
Matrixyl 3000: Matrixyl 3000 is one of the best anti-aging peptides available today. It's all the rage in beauty circles, much in part because of a 2009 study stating, that applying non-prescription Matrixyl 3000 to your skin caused an 90% reduction in fine lines and wrinkles. Matrixyl 3000 aids in regulating cell activity, remodeling collagen tissue. This ingredient nearly doubled the amount of collagen in the skin. It lifts and firms the skin and restores a youthful appearance.It is a tried-and-true anti-aging ingredient used by many men and women.
Hyaluronic acid: You need to keep your face moisturized if you want to fight the signs of aging. Hyaluronic acid is a natural substance in our body.  It's been called the "key to the fountain of youth." Not only does it bring that moisture, but it also helps cells to hold on to the moisture produced by the skin. Hyaluronic acid has the ability to attract and hold up to 2,000 times its weight in water, so it's safe to say it's a super-hydrator of epic proportions. Plump your skin by maintaining hydration at this level which helps erase fine lines and wrinkles.
Ceramides: Ceramides occur naturally within the body. This is incredibly important to the health of the skin as they are part of the skin's natural barrier. Ceramide is known as the "superstar" of anti-aging ingredients! They hydrate all day to help restore the protective skin barrier, so as to reduce wrinkles, increase skin's elasticity and delay slow down skin aging.
vitamin C:  Another cool thing about vitamin-C is that it contains a property that prevents your skin's melanin production, which is what causes skin discoloration like dark spots and hyperpigmentation. With continued topical use, vitamin C can help prevent dark spots from forming to begin with, as well as gradually heal the skin thus reducing discoloration and hyperpigmentation.

Aloe Vera: Aloe Vera gel has vitamin C and E, beta-carotene in abundance. Therefore, it has anti-aging properties. It also helps to eradicate skin blemishes and diminish age lines. Additionally, it helps to increase the production of collagen in the body and skin elasticity.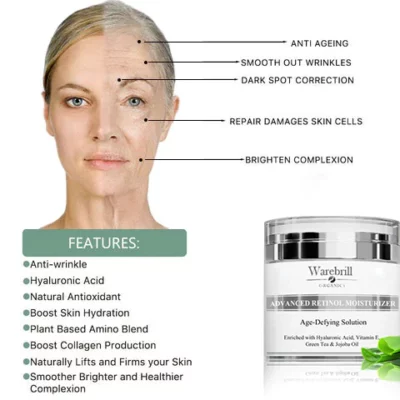 Warebrill™   Organics Retinol Cream:
Firms and lifts saggy skin and increases its elasticity
Fades forehead creases, frown lines, crow's feet, etc.
Locks in moisture to your skin, improving its overall texture, tone, and health
Brightens hyperpigmentation and age spots
Boost collagen production
Leaves a protective film that prevents dryness and water loss and protects your skin against free radical-induced damage
Paraben-Free, Sulfate-Free, Formulated without Phthalates, No Synthetic Fragrance
No oily residue left behind. Our cream quickly absorbs without a heavy or sticky feel.
Made in the USA! Our products are formulated in an FDA registered laboratory and are never tested on animals – Cruelty Free
Package Includes: 1 x Warebrill™ Organics Retinol Cream
Volume: 1.7 Ounces
Note:  Come with 90 days guarantee and friendly service, if our serum doesn't work for your skin, or you simply don't like them, the item can be returnable. We guarantee you a pleasant shopping and using experience.
Quality assurance Risk-Free 90 days money back guarantee.