Oil Change Tool
Oil Change Tool
MAIN FEATURES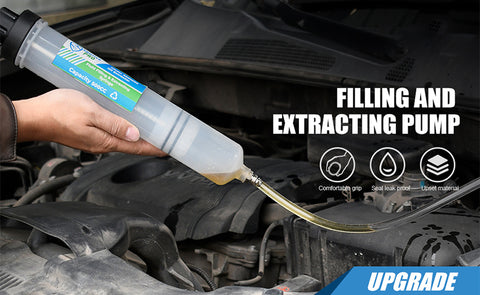 🔥HIGH-QUALITY MATERIAL: The syringe oil pump is made of high-quality, strong and durable material, with built-in double rubber pads that fit the piston tightly to avoid leakage, and the thickened wall enhances high strength and provides a long service life.

🔥EXTRA TUBE AND DIFFERENT CAPACITY OPTIONS: The extra tube provides extra length for working in hard-to-reach places without worrying about spillage during use.

🔥DRAEING AND INFUSING FLUIDS: Using the simple syringe-style action of a manual fluid pump, liquids can be drawn and filled bi-directionally quickly and easily with a differential extractor dispenser. Ideal for emptying or filling the main tank and other reservoirs, extracting brake fluid from the tank and adding new fluid before flushing the fluid to the brake calipers.

🔥WIDE RANGE OF APPLICATIONS: Ideal for extracting or replacing engine oil or lubricants in ATVs, marine vessels, agricultural equipment, industrial gearboxes, motor vehicles, motorcycles, RVs, and more. Suitable for engine oil, gear oil, transmission oil, including chemical resistant oil, brake fluid, diesel, coolant, hydraulic system and water.
SPECIFICATIONS
Material: PVC

Weight: 300G